Once you have created your account you are ready to bid with Farmer Auctions in any of our Online Only Auctions.
Registering For An Auction: Once you have created your account you will need to register for each auction. To do so, click on the yellow "Click here to register" button at the top of each auction. You will then be prompted to use your email and password to login. Next select the credit card you would like to use, then you're all set!

Bidding In An Auction:
1) You can click on the blue Bid button underneath each item to bid the next increment amount.
2) You can set a maximum bid to the highest amount you're willing to spend on the lot. The price will only increase if someone bids against you, and won't bid you above your maximum set amount.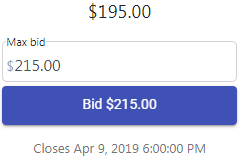 Winning/Receiving Your Items: Congrats! If you have won a lot, or many, in one of our online only auctions, your selected credit card will be charged and you will be sent a receipt to your email. There will be a set removal date for every Online Only Auction. If you are unable to make the removal date you can have your items shipped or picked up for you by The Packaging Store. If you are in need of shipping please contact The Packaging Store at 540-772-0999 or by email at va203@gopackagingstore.com. *Must be notified of shipping request by noon the day prior of the removal date, or else items are considered abandoned.
Buying in a Live Auction
Every auction offers multiple ways to bid:
Bidding Live in the Gallery: Bidders join us in the gallery during the auction as the auctioneer calls bids to the crowd. If you wish to bid you must register (free of charge) at the front desk to get a bidding number. Once you are registered you may bid on any item you wish. You are never required to bid just because you are registered.
If you happen to be the winning bidder you are required to pay before you leave the gallery. We request, if at all possible, you take your items with you.
Bidding Live Online (Remotely): This option allows you to bid from anywhere that you have internet access. You must register on an online platform (we use Live Auctioneers, Invaluable, and Auction Zip) and be approved by our office. Once approved you are eligible to bid live during the allotted auction time. Once the auction begins an employee in the gallery will run the online terminal in sync with the auctioneer, this allows you to bid remotely in real time. You will receive an emailed invoice after the auction to confirm any items you won. Post auction, you may either pick up your items in person or contact our third party shippers to have the items shipped to you.
Leaving an Absentee Bid:If you are unable to bid live in the gallery or live online you still have an option! Once you fill out and sign our absentee bid form a staff member will enter your absentee bid, which is then executed on your behalf by the auctioneer during the live auction. You may also register to leave an absentee bid on our website.
Remember, when you place an absentee bid leave the highest value you are interested in paying. Sometimes you pay less if no one bids against your bid, and sometimes you are outbid. Post auction, you may either pick up your items in person or contact our third party shippers to have the items shipped to you.
Phone Bidding: For Collector and Specialty auctions we offer phone bidding as an option. Once you fill out and sign our absentee bid form you will be eligible to bid by phone during the live auction. At the appropriate time a staff member will contact you via phone and relay your bids to the auctioneer.
---
---
Click to learn more about the types of auctions we offer
A few helpful tips:
We offer the lots in numerical order (i.e. 1, 2, 3, etc.) – we average about 100 lots per hour depending on the type of sale. We recommend coming early if you have an item in mind so you don't miss it. Once it's sold, it's gone!
There is a buyer's premium added to every invoice as well as state tax – keep this in mind when budgeting. Please refer to the terms and conditions of each individual auction for current buyer's premium rates.
Always make sure to closely examine any items that interest you in person. We work hard to mention/photograph any damage, but all bidders should take a look too. Can't view items in the gallery? Contact us and we would be happy to send you a condition report.