Mid-Century Modern…so, what is it, exactly?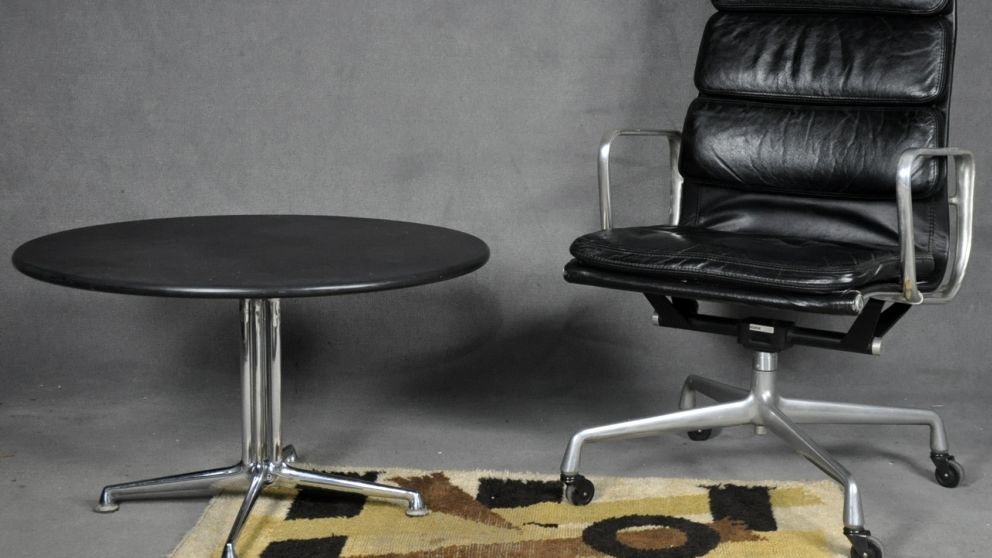 For many though, the works of Ray & Charles Eames, Eero Sarrinen, Knoll, and Herman Miller, are items that were born in the past, and should remain there. But to a newer generation these sleek, clean, and "Mid-Century Modern" pieces designed and executed between the 1940s and 60s, are fresh, and consequently hot on the market. Go to the Antiques Garage in New York City or countless other vintage stores across the nation (slowly but surely replacing the antique store), and you are confronted with an incredible collection of Mid-Century modern clothes, furniture, cookware, and decorative objects. These items are also quickly making their way into auctions houses as witnessed in our own Treasure Auction and Quinn and Farmer's Auction held on Sept. 21 2013 which included numerous Mid-Century Modern items.
Mid-century, or Post War, design was progressive, usually affordable, mass-produced, but also intentionally designed. It is this period of design where we see an increasing recognition of designers, not just their products. Ray & Charles Eames in particular, designed furniture that was popular in its own time and is still highly sought after. After designing ergonomic splints in WWII, the Eames continued to perfect their experiments with bent wood joining it with new materials that were highly utilized during the war, such as industrial glues, chrome, and rubber. By the end of the 1940s, the Eames were designing organic, earthy, and ergonomic furniture. By the 1950s, America designers worked to "domesticate the atom" (think the Nelson ball clock), in an effort to ease the tensions of the Cold War. They also focused on family and home - and all the multitude of items you would put in your modern home, from tupperware to TV dinners. As the 60s progressed, and NASA made great strides, Space Design (think Roger Sterling's sleek white office) came into its own. Now, glossy, futuristic, rounded design replaced the earthiness and simplicity of Organic Design begun by the Eames and Scandinavian designers.
Thanks to popular culture and television, Mid-Century Modern design, space age design, and Scandinavian design have become a twenty-first century hybrid. And, though the styles were contemporaneous, and similar in a variety of ways, they were also distinct. In the emotionally charged apartments and lofty office spaces of Mad Men, we catch a glimpse of what the 60s may have looked like. But interior design today is championing eclectic spaces with a vintage, Mid-Century Modern aesthetic. If you are looking to modernize your home or office, these pieces could certainly do the job for you.
In Farmer Auctions' upcoming November 26th Super Treasure Auction, we have a collection of Mid-Century Modern office furniture. Including Lot 221, a Herman Miller Mid-Century Slate Top Table estimated between $150-250; Lot 219, a Herman Miller Chrome & Leather Desk Chair, estimated between $250-350; and Lot 220, two Stow-Davis Cradenzas and Stow-Davis desk. Lot 222 includes the two original rugs upon which sat the office furniture. Each of the items were used in the 1960s at the offices of architectural firm Hayes, Seay, Mattern & Mattern in Roanoke, Virginia. We also have two Danish pieces (Lot 224 Scandinavian Style Cradenza, and Lot 225 Scandinavian Style Table) that add a modern vibe and a warmth generated by the teak wood and organic Scandinavian design elements. If you are interested you can bid online or in person at our new Salem location.
Written by Sarah Gibbons, Gallery Manager
---