Ceramics 101: Earthenware, Stoneware & Porcelain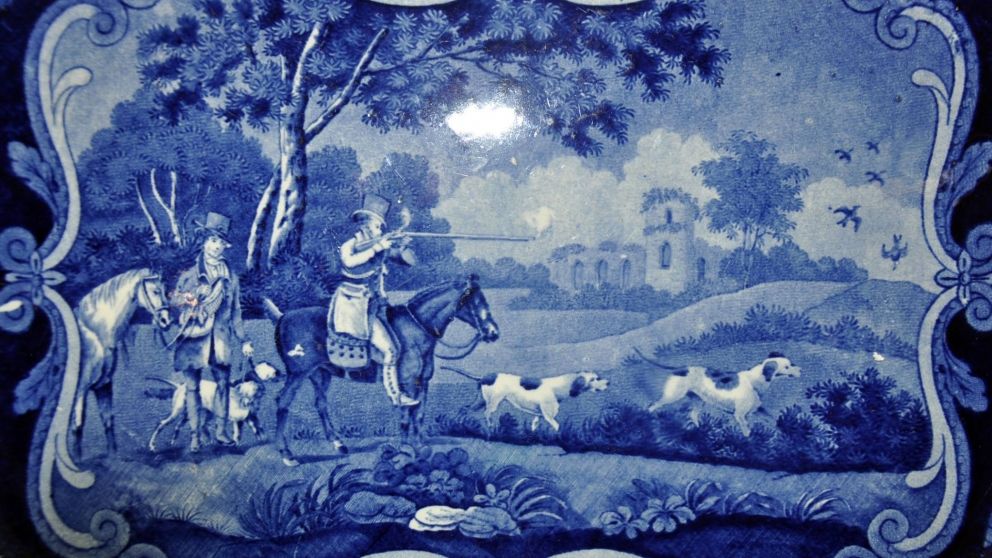 Ceramics:
An umbrella term that is used to refer to both decorative and useful items made of clay. This term includes other terms you may have heard of: porcelain, stoneware, redware, blanc de chine, transferware, parian, and many more. Each of the latter terms represent its own unique process, but ultimately they are all examples of ceramics.
Porcelain:
Highly resonant, often translucent. Porcelain ceramic ware must be fired at an extremely high temperature. Though the process was used in Asia for centuries, and the importation of Asian wares into early modern Europe sparked an interest and soon European manufacturers were attempting to create porcelain. This was however, a difficult task and successful porcelain eluded craftsmen and manufacturers.
In 1710 however, the Royal Porcelain Factory, now referred to as Meissen, was the first location to make true hard-paste porcelain. Before this, all porcelain in Europe and America was either imported or a failed attempt (essentially referred to as soft paste porcelain). What makes hard paste porcelain so hard to execute? The specific combination of materials required: kaolin (white clay) and petunse ("a feldspathic rock which can fuse into a natural glass"). Blanc de Chine refers to pure white porcelain that has only a clear glaze and no color enamel glazing or gilding.
Stoneware:
Stoneware was often historically used in America and Europe when making utilitarian wares, such as large water jugs, storage jars and the like. The composition of stoneware clay makes it highly vitreous once fired, this means that when heat is added, the clay becomes un-porous. Because of this, stoneware generally did not have polychromatic decoration or an overall glaze to allow the items be used for liquid storage. More often than not, items merely had sparse brushed decorations in cobalt glaze.
Salt glazes and alkaline glazes were occasionally used on stoneware even though an over glaze was not required for use. Alkaline glazes were highly used on stoneware items original to the southern states. The strong, non-porous composition of stoneware clay allowed for the creation of large scale storage jars that could remain durable after firing.
Earthenware:
Earthenware is porous until an overglaze is applied to the surface. All ceramic items, excluding stoneware, are considered earthenware. Earthenware includes redware, which is similar to stoneware in that it was often utilized when creating utilitarian objects. Redware, however, is not nearly as durable, and breaks with greater ease than stoneware. It is because of this that though redware was once ubiquitous, relatively little of it remains extant today. Used in the kitchen and barn alike redware is generally lighter than stoneware, often making it easier to use.
Culturally, redware was very important to the German immigrants of Pennsylvania and North Carolina in the late 18th and early 19th centuries. Often, members of these societies used redware dishes to commemorate and celebrate weddings, births, anniversaries and the like. Since most commemorative items were well guarded and handed down in families (rather than being subjected to daily use), more of this type of item have lasted than those used in kitchens. Redware was generally decorated with slip glaze (watered down clay that could be piped similar to frosting). The slip glaze was generally colored with natural materials such as copper and cobalt. The natural colors, green, cream etc. always look striking on the red clay ground after which this type of ceramic ware was named.
Written by Sarah Gibbons, Gallery Manager
---